Day 1~ Civitavecchia & Check-in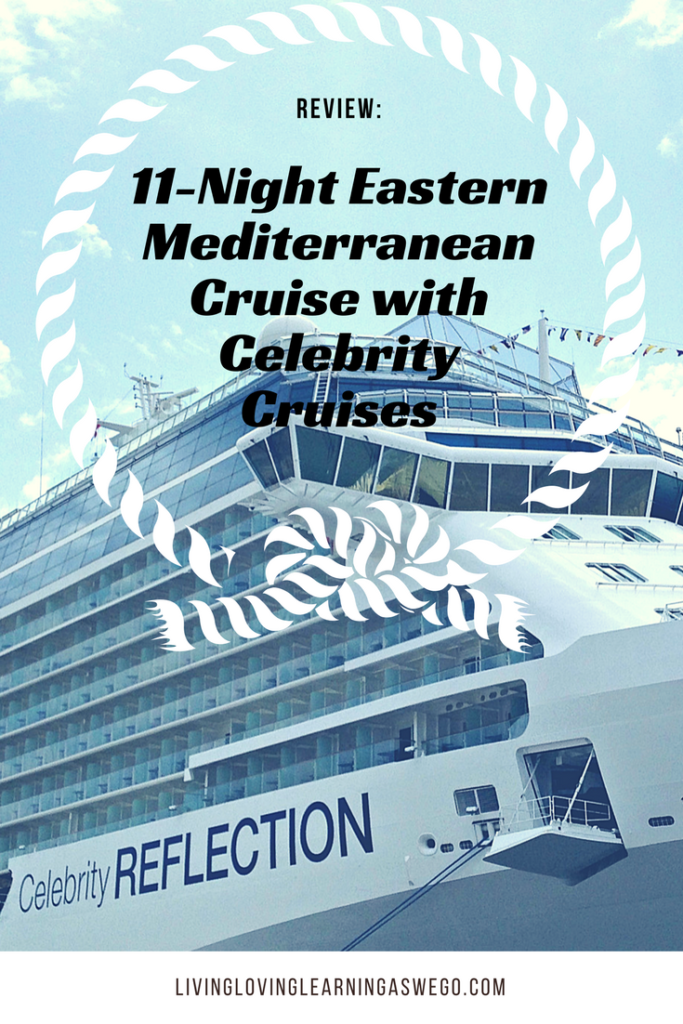 Packing up to leave Rome was bittersweet. We had so much fun exploring Rome, but were beyond excited for our first cruise.
After checking out of the hotel, we took the train to Roma Termini, then on to Civitavecchia, the port where the cruise was departing from. It was about an hour train ride from Rome. Everything was going smoothly and Caleb was loving the extended time on the train.
It was in Civitavecchia where things got a little bumpy. According to all my research, the check-in station was about a mile from the train station and after sitting for over an hour, it seemed like an easy walk. What we did not know was how much of that mile was blocked off or under construction. (Moral here–> take a taxi from the train station to the cruise check-in.)
So what was supposed to be a mile of paved walkway along the beach, turned into about 2 miles of parking lots and stairs. With a 5 1/2 year old who wanted to look at everything instead of pull his suitcase.
Once we made it to the check-in point for the cruise, everything- and I do mean everything!- went wonderful. We checked in with the shuttle that took us down to the ship, were greeted by staff that guided us to each point from there. Luggage √

– will meet us in our cabin later, Priority Check-in √

– a quick review of ID's, passports, and reservation documents required and we were on our way with cabin keys. There was an additional checkpoint for those with kids to go over all the amazing activities they have planned on-board for them and give them each a bracelet with our in case of emergency muster station on it. It was really nice knowing that if there were an emergency to know exactly where to go to find the kids and not end up scrambling all over a ship the size of a small city trying to find them.
We were welcomed on-board the Reflection with champagne (orange juice for the kids), and began exploring right away. First stop, finding our cabin. Partly because we were excited to see it and partly to acquaint ourselves with our starting location for each day.
Our cabin was concierge class (we splurged quite a bit for this trip!), which meant we had a veranda (balcony), the priority check-in we had just completed, personalized concierge service- including wine and fruit in the room to welcome us, daily treats delivered each afternoon, specialty toiletries, a Celebrity Cruises tote bag (which came in handy during a beach shore excursion in Greece), a nice sitting area in the cabin, and more.
That's on top of the fantastic guest service and amenities everyone receives, such as, maid service twice a day, 24-hour room service (which I wish we would have taken advantage of more), more dining options you know what to do with, and beyond comfortable beds. I am pretty sure I got the best sleep of my life in that bed. And I loved the schedule of events placed on the bed each night. It made it easy to have a general plan for what we wanted to do the next day.
Once our room had been thoroughly oohed and ahh-ed over, we continued our exploration of the ship.
We found the first pool, which happened to be the family pool, and relaxed a little on the deck just taking in the views. There was also an indoor adults only pool. After wandering the outdoor decks, we made our way inside to the center lobby area. They had a REAL tree growing above it, in between the elevators. Looking up, you could easily mistake yourself for being in a high-rise building on land.
At this point, Skye and Caleb were getting antsy to check out the kid zones. We first went to the Fun Factory for registration and open house for Caleb. He was assigned to Shipmates (ages 3-5) and was off to have fun with barely a look back. Next up, Skye and the X Club. She was thrilled to be considered a Junior Teen (ages 12-14) and couldn't wait to get in on the planned activities they had going on. Corey and I were practically shooed away!
Before setting sail, there was a mandatory emergency and lifeboat drill. This was simply to make sure all passengers knew where to go in case of an emergency and a rundown of the procedures that would follow. The staff was incredibly organized and straight to the point. This made the mundane of an emergency drill, relatively painless (They knew everyone was ready to focus on fun and relaxation), and it was good to know, if there was an emergency, this is the spot where our kids would be brought to meet us if they were in the Fun Factory or X Club.
Corey and I took some time after the drill to walk around just us. We were setting sail at this point and it was interesting to watch the giant ship maneuvered out of the port and into the open sea.
Our scheduled dining time was 6pm, so we went to get the kids from the kid's clubs and returned to the cabin to freshen up a bit. Since it was the first night, and most people didn't have their luggage in rooms yet, the dress code was casual.
The food! Oh my goodness, I could gush about the food for days. I just wish I had remembered to take pictures of all of it throughout the cruise. Dining in the main restaurant for dinner is enjoying a 5-star multi-course luxurious dinner every night. We had the same waiter, assistant waiter, and sommelier every night. By the 3rd night, he already had the kids drinks coming to the table as we were sitting down. There was a special kids menu just for Caleb (and Skye if she wanted to order from it) with kid-friendly options and then multiple options of appetizers, entrees, and desserts on the regular menus for the rest of us. The choices on the menu were new every night, so there was no way to get bored with any food choices.
After dinner both kids wanted to go back to the kids clubs. We obliged and took the time to return to our cabin, knowing our luggage would have been delivered by then. We took a little time unpacking getting things organized so we weren't "living out of suitcases".
For the first night, there was a performance in the theater by Leanne Mitchell, winner of The Voice UK (2012), which we went to after getting the cabin all settled.
We then picked up the kids and returned to our cabin to find the beds turned down; the kids' beds were the sofa converted to bed and a trundle bed that slid out from under the sofa. We tucked the kids into bed and went out onto the veranda to enjoy the peaceful darkness, listen to the movement of the water as the ship pushed through it, and make some plans for the next day.
We knew then this was going to be the trip of a lifetime.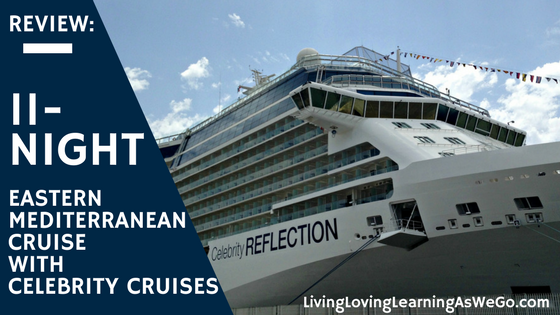 Have you been on a cruise? Where did you go?
This is Part 1 of Review: 11-Night Eastern Mediterranean Cruise with Celebrity Cruises: Read other parts below:
(This was NOT a sponsored post.)
Save
Save
Save
Save
Save
Save
Save
Save
Save
Save
Save
Save
Save
Save
Save
Please follow and like us: