Weekends around here usually involve a homemade breakfast. Well, that tends to be a bit difficult when you wake up to no electricity and you have an electric stove.
(Disclaimer- This post may contain affiliate links. For more information, please see Disclosure Policy.)
My husband decided that he was making breakfast anyway and fired up the BBQ grill and pulled out the cast iron griddle and grill pan. He said "we cook over an open fire when we go camping, so why can't we do it at home?" I didn't really have a rebuttal, so he and Miss S started whipping up some pancake batter. We also had some sausage links in the freezer that are the brown and serve kind, so they just went right in to a small cast iron grill pan and heated them through.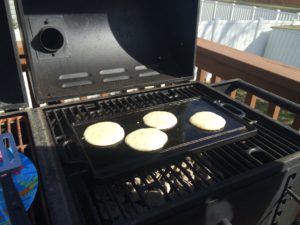 Turns out, a cast iron griddle works just as well on a BBQ grill as it does on an open fire pit while camping. I, of course, forgot to take a picture of them all done, but they looked like pancakes. We all know what pancakes look like 🙂
I will be honest, cooking breakfast on the BBQ grill would not have occurred to me. I would have just had the kids eat cereal with some fruit and called it good.
What kind of great ideas have your spouses come up with that you would not have thought of?
(Disclaimer- This post may contain affiliate links. For more information, please see Disclosure Policy.)
Save
Save
Save
Save
Save
Save
Please follow and like us: