So, we did it. We bought a fifth-wheel. It's a 41-foot, 2018 Heartland Elk Ridge. The trip from Montana to Ohio to pick it up was anything but smooth sailing- stormy weather, truck issues, the pick up date being changed while in mid-trip, and a completely disorganized pickup process.
We bought it from RV Wholesalers (also known as Durnell's RV's) in Lakeview, Ohio. I do want to say that during the initial process for purchasing- the pricing estimate for what we wanted, processing the financing (or so we thought at the time), answering the million and one questions we had- the customer service was great.
Then we sent the $1000 deposit for placing the order. Once that was sent and the order was placed, getting any information was like pulling teeth. First the pickup estimate was 6-8 weeks. Great. We started downsizing, gave notice to our apartment rental company, and began packing and moving things into storage that we knew we were keeping.
Then 2-weeks later, we got a call that the new pickup estimate was 8-10 weeks, but no more than that and she would call us the week before with the exact date for pickup. Ok. We could still work with that. We made plans to stay with family, my husband put in for vacation time from work for the whole week to make the trip. We were trying to be flexible with at least an outline of a plan.
Finished packing, cleared the apartment, and stayed with family for the last few days before leaving for Ohio. We knew it was supposed to be ready the week of August 14th (2017), so we were planning to leave on Sunday the 13th, expecting it to take 2-3 days to drive there and to allow time for fun stops along the way. Making a road trip out of it.
By Saturday, I had still not heard from the sales representative, so gave her a call. Knowing we were planning to leave the next day, we wanted to know what day it would actually be ready for pick up. The representative then tells us that she didn't know for sure what day and connected us to the manager, who then proceeded to tell us that while it was scheduled for delivery to them on Wednesday (16th), he wouldn't know for sure until that Monday (14th) if it would actually be arriving then.
I will be honest. I was pretty livid at this point, but still trying to be reasonable and understanding. He did explain that the RV would need to go through a final audit at the factory before being sent to them, then they would need to install the additions that we added (washer & dryer). Now, I understood that- to a point. If they weren't sure about the dates, why didn't anyone call to fill us in on that information. There's a clause in the fine print when we paid the deposit, that if you don't pick up within 5 days of the arrival date, you forfeit your $1000 deposit.
Obviously, we didn't want to forfeit that. Plus we were planning to make the RV our primary living quarters to transition into full-time RV living. That required actually having the RV. All our plans had been based on the dates/time frames they had given us. So, we bumped back leaving Montana until Monday (14th) and hoped for the best when they called back on Monday.
Which they didn't.
Monday came and went. We drove, making it to South Dakota, then hitting some massive weather. Rain pouring down in buckets. Hail. Wind. Fog. It was crazy and we probably should have pulled over or stopped somewhere. Our truck had nothing but issues after that storm and all the way across South Dakota. We got just past Rapid City and lost engine power, had to limp the truck back to Rapid City to get to an auto parts store for a diagnostic check. The code given was for a list of about 10 things that *could* be wrong. We started with the least expensive fix. It worked for about an hour, then we had to limp to the next town with an auto parts store. Tried the next option and so on. We did this all the way across South Dakota. It took us two days and two hotel stays to get across this one state. TWO DAYS! We finally discovered the mass airflow sensor was fried, most likely from the storm we drove through instead of stopping.
I called the RV dealer Tuesday morning and they said we could pick up Thursday. I received an email shortly after from our sales rep saying not to come until the afternoon.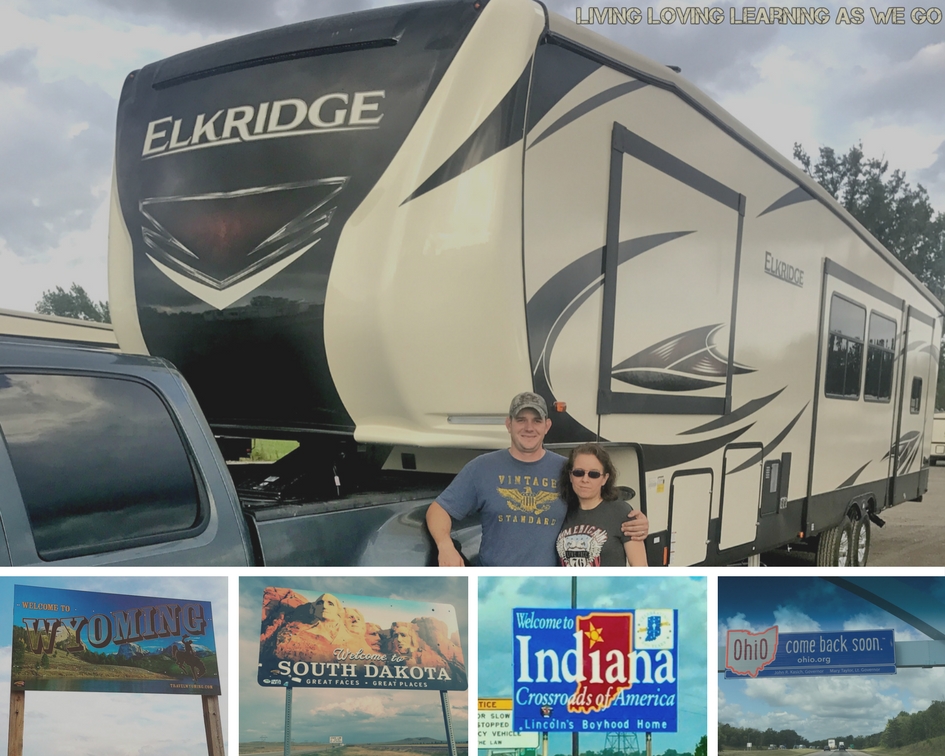 Funny thing is, once we were out of South Dakota, no problems whatsoever. At least until the drive back. Drove through Iowa, Illinois, and Indiana with no issues and finally made it to Ohio and the RV dealer on Thursday afternoon. What was supposed to be about a two-day drive, turned into four-and-a-half.
But we made it. Then the RV dealer staff were saying they had expected us at 9am that morning. I had to show them the email telling us not to come until later, so there was some disconnect in the communication between departments there. Actually there seemed to be a lot of disconnect in communication.
We started doing our walk-through of the RV and getting the explanations of what buttons and valves do what, when the finance department guy came out to talk to us. He then says he needs all this documentation (W2's, pay-stubs, etc.) for the bank for the financing we had been told was already approved and ready to finalize. And I had asked previously, well before leaving Montana, if we needed any of that stuff and was told everything was already processed and approved. Corey has pretty good credit and I didn't think anything more of this.
At that point, they stopped the walk-through, as well as the installation of the fifth-wheel hitch into our truck, until all the financing could be worked out. I printed a copy of our tax returns, since I always do our taxes, I could easily sign-in to get that. Then that wasn't enough, they needed copies of the actual W2's and pay stubs. Fortunately, I remembered I still had the W2's in my household finances binder from doing our taxes a few months before and Corey called his boss to get a couple of months of pay-stubs emailed to him.
But by that point, it was 5pm and the bank was closed. There was a big to-do about needing to find another bank. By the time all that was straightened out and they finished installing the hitch, the rest of our walk-through was rushed. There were things wrong we didn't notice right away and questions we didn't get to ask or forgot about because everything was so disorganized.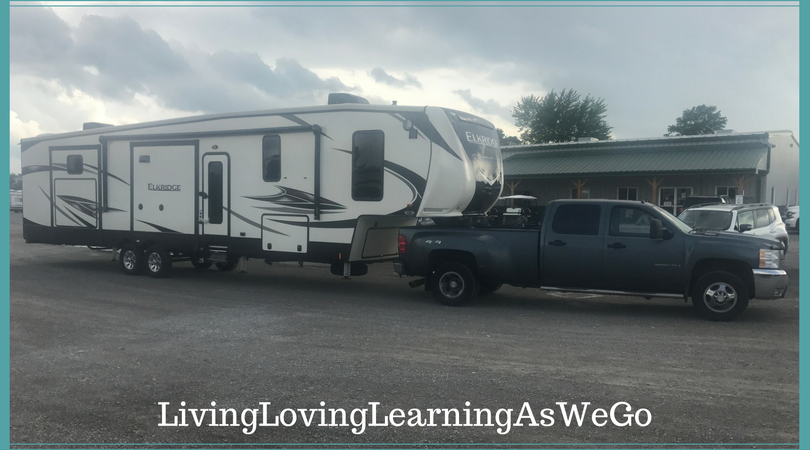 The drive back was way less eventful, but the truck did start acting up again as soon as we crossed into South Dakota. We are pretty sure the truck hates that state, because once we were in Wyoming, it was fine. And no issues since getting back to Montana. (Honestly, it probably has something to do with elevation and the air flow to the engine, but it still seems funny to think it doesn't like something.)
What was supposed to be an exciting purchase turned into a big frustration. We are happy we bought the RV and there will be future posts about living in the RV, getting organized in it, and what we've learned after the first couple months.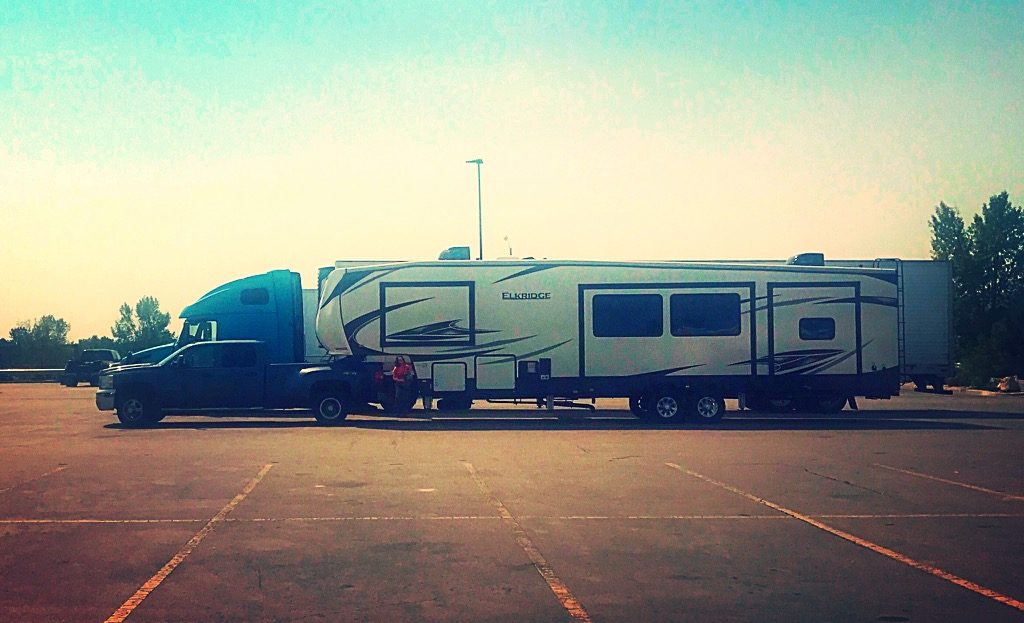 However, looking back over the whole purchasing experience, and the fact that there are some significant things wrong in the RV that need to be fixed and I can't get the warranty department to call me back, I don't think if we would buy from them again.
Check back soon for a tour of the inside!
(Disclaimer- This post may contain affiliate links. For more information, please see Disclosure Policy.)
Please follow and like us: