Chapter by Chapter
Resources and Links for
Story of the World: Volume 1
Chapters 1-10
(Disclaimer- This post may contain affiliate links. For more information, please see Disclosure Policy.)
Supplies:
Story of the World Volume 1 (We do an average of one chapter per week, but if chapters are unusually short we may double up in one week, or if there is a lot of content to cover, we extend into multiple weeks.)
Binder or notebook for notes, maps, lapbook pieces, timeline, tests, etc. (It's helpful to keep everything together in one place.)
Activities are aimed specifically at elementary age
Activities for middle school age and up
Activities for high school age
Activities for both age ranges

Options for each chapter:
Read chapter

Answer review questions from activity book either written or orally

(I usually write the questions in the notebook, leaving space between each for them to write the answers. It takes a little extra time to write the questions myself, but it helps me keep up to date with what they are learning and to know what to ask about.)

Map work from activity book

Coloring page

Pick a craft project from activity book

Timeline Entry or Timeline Cards (We stapled the printable timeline inside the back cover of the notebook and add pages as we need them by taping them to the last one. It will end up accordion-like.)

Chapter Test
Introduction: How do we know what happened?
Watch What is Archaeology?**
What is history? Lapbook Pocket

Watch

The Agricultural Revolution: Crash Course World History #1

**

(He talks fast and covers a lot in a short amount of time.)
Chapter 1: The Earliest People
Chapter 2: Egyptians Lived on the Nile
Watch The First Pharaoh and History of Egypt, Part 1
Chapter 3: The First Writing
Explore hieroglyphs with this online typewriter; See what your name would look like
The First Writing Lapbook piece

Additional books to add to weekly reading or for research:
Chapter 4: The Old Kingdom of Egypt
Optional: Continue Ancient Egypt Lapbook [for covering more details; can use with chapters 2, 4, 12, 13, & 14]
Interactive: Click on Ancient Egypt and go through each section

Watch Mummification (How an Ancient Egyptian Mummy Was Made**
Watch Ancient Egypt Explained: The Old Kingdom**
(We jumped ahead to chapters 12-14 to complete Ancient Egypt, then came back to continue at chapter 5)
Chapter 5: The First Sumerian Dictator
Watch The Legend of Sargon**
Watch

Mesopotamia: Crash Course World History #3

**
Chapter 6: The Jewish People
Jewish People Word Search

(Activity Book- Student page 18)

Color Your Own Comic Book

(Activity Book- Student page 19-22)

Watch Strong Evidence for Joseph's Tomb and Palace in Egypt**
Chapter 7: Hammurabi and the Babylonians
Read more about Hammurabi and about Babylon

Crossword Puzzle

(Activity Book-Student page 25)
Watch Turning Points in History- Hammurabi's Code of Laws** or Hammurabi's Code Explained: World History Review**

Chapter 8: The Assyrians
Watch The Epic of Gilgamesh**
Watch The Epic of Gilgamesh: Crash Course World Mythology #26**
The Assyrians Lapbook piece

Additional books to add to weekly reading or for research:
Chapter 9: The First Cities of India
Read about the

Land of the Indus

Watch

Indus Valley Civilization: Crash Course World History #2

**
Watch Mohenjo Daro-the world history**
Chapter 10: The Far East: Ancient China
Optional: Ancient China Lapbook [for covering more details; will reference again for Ch.32&33]
Watch

2000 Years of Chinese History!: Crash Course World History #7

**

(just a heads up, he does use the word @$$ in this video)



Read about the Silk Road

Watch Nature Songs-How Silk is Made**
Watch The Story of Silk from National Geographic

Watch

The Silk Road and Ancient Trade: Crash Course World History #9

**
(Last updated 09/29/2020)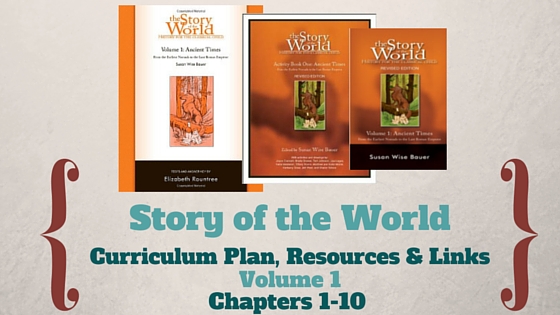 (Disclaimer- This post may contain affiliate links. For more information, please see Disclosure Policy.)
**YouTube occasionally has inappropriate content. Make sure to set the safety filter at the bottom of page to on or watch with children to be able to reload page, if something objectionable comes up.
If you come across any broken links or resources no longer available, send me a message or comment on the Facebook page, and I will get them fixed as soon as I can. Thanks!Save
Save
Please follow and like us: