Arrival and Day 1 in Rome
After every deployment, we try to take a nice family vacation to spend time together and reconnect. (The low-pressure, out of routine location helps this process.) For this one, we saved and saved, and saved and saved, all extra money during the deployment to take a big trip and see as much as we could before we would be moving back to the states in a few months. We were going to Rome, Italy followed by an 11-night Eastern Mediterranean Cruise!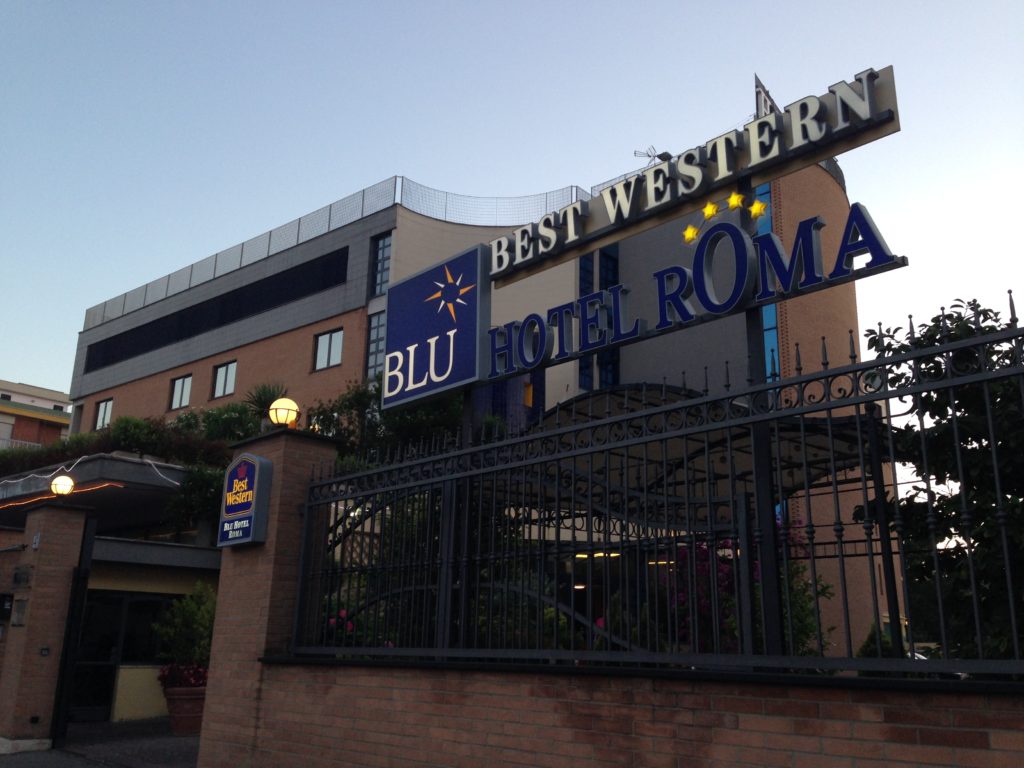 Upon arriving in Rome, we caught a taxi to take us, and the luggage, to our hotel. Getting checked in and freshening up after flying was top on the priority list, followed closely by dinner. We stayed at the Blu Hotel Roma, and while not in the heart of the city, was simple and all we needed for the 3 nights we would be there. We didn't plan on being at the hotel much anyway!
Right in the hotel was a small restaurant where we could get some dinner. I had an absolutely fabulous Pasta Carbonara and glass of Moscato. It was just what the end of the travel day needed. And after dinner, we settled into the hotel room to get a good night's sleep and early start the next day.
For our first full day in Rome, we started by taking the train into the heart of the city. We quickly learned Italian trains do not run quite as exact as German trains; the time is more of a guideline and could be early or late. We had booked tickets with a hop-on-hop-off bus tour to make the most of our time and not have to rent a car or pay a lot in taxis. I love these type of bus tours because you can get off and explore the sites you want to, for as long as you want to, then hop back on and continue the tour. They always pass the most popular tourist spots and even tell a little about them as they pass by. The stop we wanted to start with was right outside the main train station (Roma Termini), so armed with a map, camera, and water bottles, that's where we headed.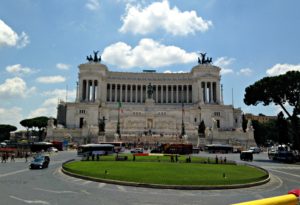 We spent a good amount of time at Vatican City the first day. It was our first "hop-off". There is a museum with a lot of beautiful pieces from throughout history-not only Catholic, but from when Ancient Rome ruled a large part of the world. Some of the sculptures and paintings are absolutely breathtaking. And of course, no trip to the Vatican is complete without a visit into the Sistine Chapel (which you are not allowed to take pictures in). I don't think breathtaking quite describes the detail in the imagery on the ceiling. Especially knowing how long ago it was done and how. Colors having to be mixed fresh every single day, painting practically upside down. It's just amazing to think what can be accomplished.
We ate probably the quickest lunch ever while at the Vatican and continued on; there was so much to see and so little time.
After Vatican City, everyone hopped back on the next bus and continued the tour of Rome, passing ancient aqueducts (some still in use to this day!), statues of emperors, ruins, the Colosseum. (We didn't get off to see the Colosseum yet, because we had scheduled a tour for the next day.) Some of the buildings, I'm not even sure what they were, but they were mesmerizing to look at. The details in the architecture were simply amazing to look at.
For dinner, we ate at Hard Rock Cafe-Rome. Now I know it's not Italian or local cuisine, but I collect Hard Rock t-shirts and try to stop whenever there is one in a place I'm visiting. I always love to see how each one is decorated too! Like this one had "ceiling frescoes" reminiscent of Italian Renaissance, but with cherubs playing modern instruments- guitars, drums, etc. I loved it!
After dinner we took a taxi back to the hotel. We were exhausted and couldn't wait to shower (it was a hot day). Although I'm pretty sure Caleb enjoyed riding in the open-topped bus more than anything else. It was a completely new experience for him! The taxi wasn't quite as fun. I think we were all asleep the moment our heads hit the pillows.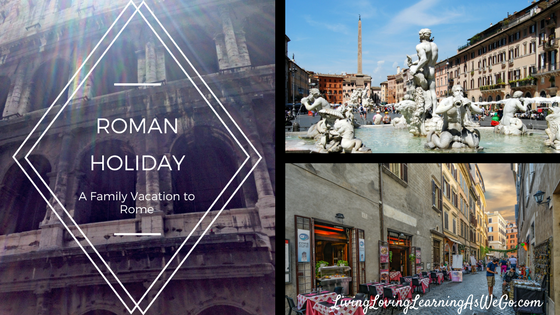 Have you ever been to Rome? What was your favorite part? Or are you dreaming of making the trip? What are you excited to see?
If you are planning a trip to Italy and looking for ideas, check out 100 Best Things to Do in Italy
Sa
Save
Save
Save
Save
Save
Save
Save
Save
Save
Save
Save
Save
Save
Save
Save
Save
Save
Save
Save
Save
Please follow and like us: