We have decided we are tired of renting and want to travel more than that budget allows. To make that happen we are looking into buying an RV, a fifth-wheel to be more precise.
We had thought about this before, about 2-years ago, but we weren't quite ready to make that leap. Corey and I have discussed it at length, had family meetings with kids for their thoughts, and we are all ready to dive into this new full-time RV living adventure.
We've been doing our research; reading blogs from full-time RVers, watching YouTube videos, and doing the math- RV payment, RV space rentals (estimated), insurance, storage, propane, truck gas, etc. So far, it all lines up and makes sense for us at this stage in our family life.
It's not planned to be a permanent situation. Corey is in the (very long) process of going back to active duty military and we only have about 3 years left before Skye will be off to college and living her own life. We want to make the most of that time with her, travel as much as we can before and after moving to wherever our new duty station is going to be, and be able to live in our own space while trying to find a new house at wherever that new location is.
We know we will get a storage unit for the furniture and other things we don't want to replace later, as well as the sentimental things that are not replaceable.

Both kids are completely on board and we have made sure to keep them in mind through the process of searching for an RV that is right for us. And we have a pretty specific wish list: large-size refrigerator, bunk-room with at least one slide-out, outside kitchen, booth dinette table, space in kitchen for dishwasher drawer, washer and dryer hook-ups, and a good amount of storage.
I'm pretty sure we have walked through at least 75-100 types of RVs at this point, mostly fifth wheels, but some travel trailers too. We have narrowed our search down to the Heartland Elk Ridge. It has a spacious floor plan and everything on the wish list, plus the bunk-room has double slide-outs, so the kids have more than enough space to be comfortable.
We have also narrowed down where we are going to buy from and I will tell the who and all about them in a post, once we complete the buying process.
Do you have an RV? What advice do you have for newbies like us that you wish someone would have told you?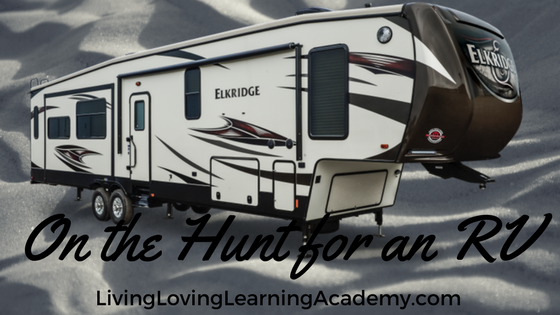 (Disclaimer- This post may contain affiliate links. For more information see Disclosure Policy.)
Save
Save
Save
Save
Save
Save
Save
Please follow and like us: