(Disclaimer- This post may contain affiliate links. For more information, please see Disclosure Policy.)
Supplies:
Magic Tree House Book Afternoon on the Amazon and Magic Tree House Fact Tracker: Rain Forests – A Nonfiction Companion to Afternoon on the Amazon (I try to get books from the library whenever possible, but they don't always have everything)
Backpack Journals for Book 6 (Click on the book and download the Backpack Study-Books 5-8. Print 1 Story Mapping with Annie page, and 1 Jack's Facts page).  You can fill in facts you want to write down on Jack's Facts page as you come across them in the reading.
Optional: Magic Tree House Games and Puzzles from the Treehouse book [This gets used a lot, but I will try to find alternatives online when possible. I make copies of the pages for easy gluing into the notebook]
 The spiral or composition notebook started with book 1
Free account at Magic Tree House
The usual: paper, printer, ink, pencils, crayons or colored pencils
Other supplies will depend on what additional projects you choose to do: Rain Forest Diorama– (Day 10) 3 cardboard boxes, Green & blue tempura paint and paint brushes, Scissors (or knife, to cut the holes in the boxes), Paper Towel cores, Clear Packing Tape, White craft glue, Green and Brown pipe cleaners, 1 package plastic rain forest animals, Fake greenery, flowers, moss etc.; Rain Stick –(Day 4)bare paper towel tube, 40-50 wooden toothpicks, School glue, Posterboard or heavy construction paper, 1-2 tbsp. of rice, lentils, or other small beans, Push pin, Hot glue gun, Paint/markers, Nippers or cutters to cut off the toothpick ends
[This unit will be science-focused, rather than history.]
Day 1
Read prologue and chapters 1-2 of Afternoon on the Amazon
After each chapter, use the story map to summarize the main event in the chapter
On story map, draw the setting of where they said they wanted to go (picture in book Jack and Annie were looking at) and the Mission Key
Day 2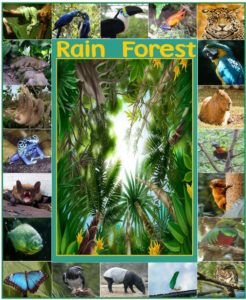 Read chapters 3-4
Story map after each chapter
Add a Rain Forest Cover page for a new section in the notebook. You can choose one in full color or black & white to color. There are a few choices to choose from here about halfway down the page.
Day 3
Read chapters 5-6
Story map after each chapter
Complete "What is a rain forest?" mini-book (about 2/3 down page; listed as 4-things-needed-in-a-rain-forest.pdf)
Day 4
Read chapters 7-8
Story map after each chapter
Make a rain stick
Day 5
Read chapters 9-10
Story map after each chapter
Fill in clue #2 on the Travel Journals Page. Color the backpack if you want.
Take the Afternoon on the Amazon Passport Quiz (Don't forget to log in!)
Day 6
Day 7



Read chapter 2: Layers of a Tropical Rain Forest (Fact Tracker: Rain Forests)
Watch Exploring the Layers of the Rain Forest**
Complete a "Layers of the Rain Forest" lapbook piece (there is an accordion book listed for younger kids that has the layers already written and one listed for older kids to write the layers in; about 3/4 down the page)
Day 8
Read chapter 3: Rain Forest Plants (Fact Tracker: Rain Forests)
Rain Forest Fruit/Other Food from the Rain Forest lapbook mini- book (we didn't add these in to the notebook in book form, but more of a fruit/other food sort, where he glued them to the appropriate page)
Watch Magic School Bus- In the Rain Forest (available on Netflix and Amazon Prime at time of posting)
Day 9



Day 10
Read chapter 5: People of the Rain Forest (Fact Tracker: Rain Forests)
Watch A Trip to the Rainforest** (Provides a good opportunity to talk about the many different medicines that come from the rain forest)
Begin building a rain forest diorama (assemble and paint) [when we don't want to use paint for projects, we substitute construction paper and glue]
Day 11
Read chapter 6: Gifts of the Rain Forest (Fact Tracker: Rain Forests)
Continue rain forest diorama
Day 12
Day 13
Continue/finish rain forest diorama
Present what you've learned about rain forests using diorama as a visual aid
Day 14
Extra Notes:
(Updated 11/27/18)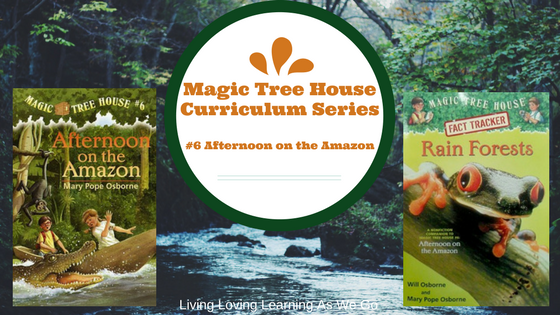 For more rain forest activities and ideas:
Living Loving Learning As We GoMagic Tree House #6 Afternoon on the Amazon/Rain ForestFollow On
(Disclaimer: This post contains affiliate links. For more information, please see Disclosure Policy.)
**YouTube occasionally has inappropriate content. Make sure to set the safety filter at the bottom of page to on or watch with children to be able to reload page, if something objectionable comes up.
If you come across any broken links or resources no longer available, leave a commenton the Facebook page, and I will get them fixed as soon as I can. Thanks!
Save
Save
Save
Save
Save
Save
Save
Save
Save
Please follow and like us: