Sun, rain, wind, debris, BBQ, fun! We had it all!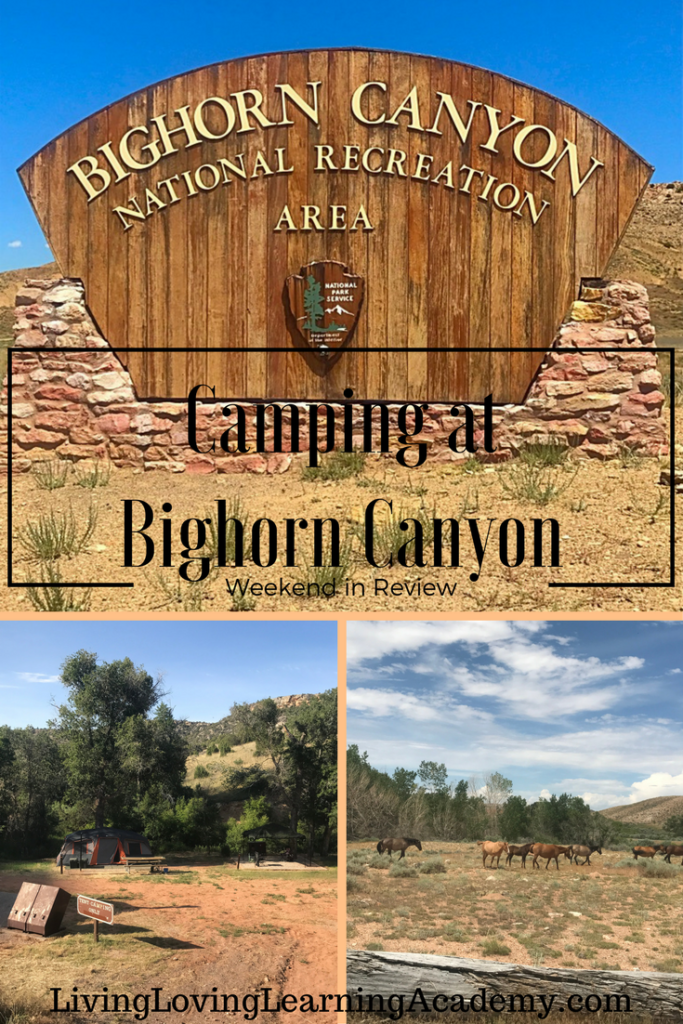 4th of July weekend, we had the opportunity to go camping at Bighorn Canyon National Recreation Area with some friends, as well as Corey's brother and his new wife. Camping at Bighorn Canyon has become a bit of a tradition for us for 4th of July weekend with this year being the 3rd in a row that we've went camping there.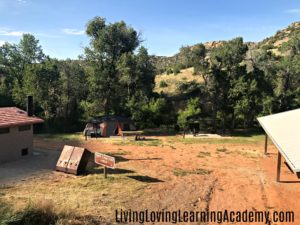 We tend to aim for Barry's Landing for a campsite. We've had good luck in the past getting multiple tent sites together, along with a pavilion for shade. Usually it's just our group taking up the spaces, which is nice because then we don't have to worry about being quiet when it gets late.
The friends we went with have a boat, which is why we go there. Usually the water is great for wake-boarding, skiing, and tubing. That's the one the kids love- tubing- they can be pulled and tossed around for miles, loving every minute of it.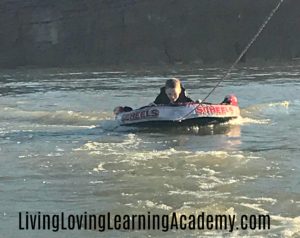 This time though, there was tons of debris in the water that took a lot of zigzagging to avoid, but we eventually found an area clear enough to let the kids do some tubing. Caleb was the first to volunteer.
Even when not playing in the water, the views of the canyon are spectacular!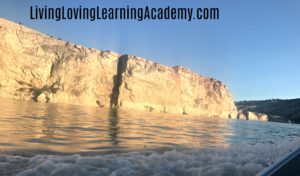 After a few hours on the water, we made our way back to the boat dock and then to the campsite for a late dinner. It was about 9pm by this time and everyone was hungry. (There are no BBQ grills at the sites, so be sure to bring your own, but there are fire pits with grates.)
The next morning, after everyone was up, we made breakfast and plans for the day. Since there was so much debris in the water where we were, we decided to spend the day at an inlet near Horseshoe Bend (another area within Bighorn Canyon) with a nice spot for the boat, set up chairs and an easy-up canopy, bring the coolers for food and drinks, and make a day of it there.

We were able to easily switch out people on the boat, the kids could play in the water, and behind us were wild mustangs roaming. Couldn't find a better view if we tried!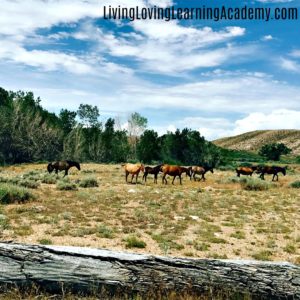 Unfortunately, the weather turned on us late in the afternoon. Thunder, lightning, and rain all rolled in pretty fast, came down heavy, then was gone almost as quick. By the time we got back to our campsite, the storm had passed through there as well. We found our tent collapsed from the rain, everything soaked- clothes, blankets, bags, everything. Thankfully, the sun was back out and we were able to get all the rain-soaked stuff laid out in the sun to dry. We were able to get most of the stuff dry enough to stay the another night. And thankfully Corey had an extra sleeping bag that hadn't come out of the tote box and was completely dry, as well as his brother having brought an extra one as well. We were able to enjoy the rest of the night, have dinner, and even made some delicious fruit & s'more cones over the fire.
We did one more day out in the sun, letting the kids play in the water and enjoying themselves before heading home a day early. While we planned for 3 nights and 4 days, but everything getting soaked, kinda killed that plan. Clothes and blankets desperately needed to be washed, as did the rest of us (ha!). All in all, it was a good weekend and we always have a good experience camping at Bighorn Canyon National Recreation Area, specifically the Barry's Landing area.
Pros:
Many camping spots have some type of shade, whether a gazebo, pavilion, or tree cover

Friendly camp hosts that come around to check that you've paid and answer any questions you may have

Easy pay stations for overnight camping

Updated, level camping pads with lantern poles (just don't have a big tent- see cons below)

Bathrooms are clean and decent

Scenic, well-maintained roads coming into and throughout the recreation area (the wild mustangs are a can't miss!)

If you have an annual pass, there's no fee to get in and it gets you discounted camping rates (we get the Annual Pass for Military every year and is good at all national parks and recreation areas)

Plenty of hiking trails

Multiple bear boxes at each grouping of campsites and good placement of them; easy to get things in and out of

Good amount of parking space at boat launch locations for truck and boat trailers

Graded and graveled RV spots (as we were tent camping, I didn't look too much into these this time, but will be in the future since we are in the process of buying an RV)
Cons:
Camping pads do not fit larger tents (ours is a 10×20 cabin tent and the ends were off the pad; this is what caused our tent to collapse during the rain)

No reservations; all spots- tent and RV- are on a first come, first serve basis

No showers or sinks in the bathrooms (at least where we were; they are nicer than an outhouse, but still mainly a toilet over a hole inside a little building)

Not many good beach-type access spots if you don't have a boat

Not very many RV sites and even less are pull-thrus; also none with RV hook-ups (none that I saw or could find on the website; there is dump stations though)
Recommendations:
When camping in the summer, bring lots of ice and make sure your coolers seal well. You will go through a lot of ice. (If needed, they do sell ice at the little store at Horseshoe Bend Marina)

Watch for horses and other animals in the road while driving

I'm making a list of places to go and see once we get the RV, so let me know, where's your favorite place to camp-national park, local campground, state park?
(Disclaimer- This post may contain affiliate links. For more information, please see Disclosure Policy.)
If you come across any broken links or resources no longer available, be sure to comment below and I will get them fixed as soon as I can. Thanks!
Save
Save
Save
Save
Save
Save
Save
Save
Save
Save
Save
Save
Save
Save
Please follow and like us: