I don't know about you, but I can get a bit scatter-brained trying to keep track of everything in my head. Like most parents, I'm always multi-tasking in some way- running a load of laundry, writing a draft for a blog post, trying to remember which kid has what event or activity when, getting them there, planning what to make for dinner, maybe catching up on some reading when the moment allows, and trying to remember to move that load of laundry to the dryer before I have to wash it again. (That last part happens way more than I'd like to admit.)
(Disclaimer- This post may contain affiliate links. For more information, please see Disclosure Policy.)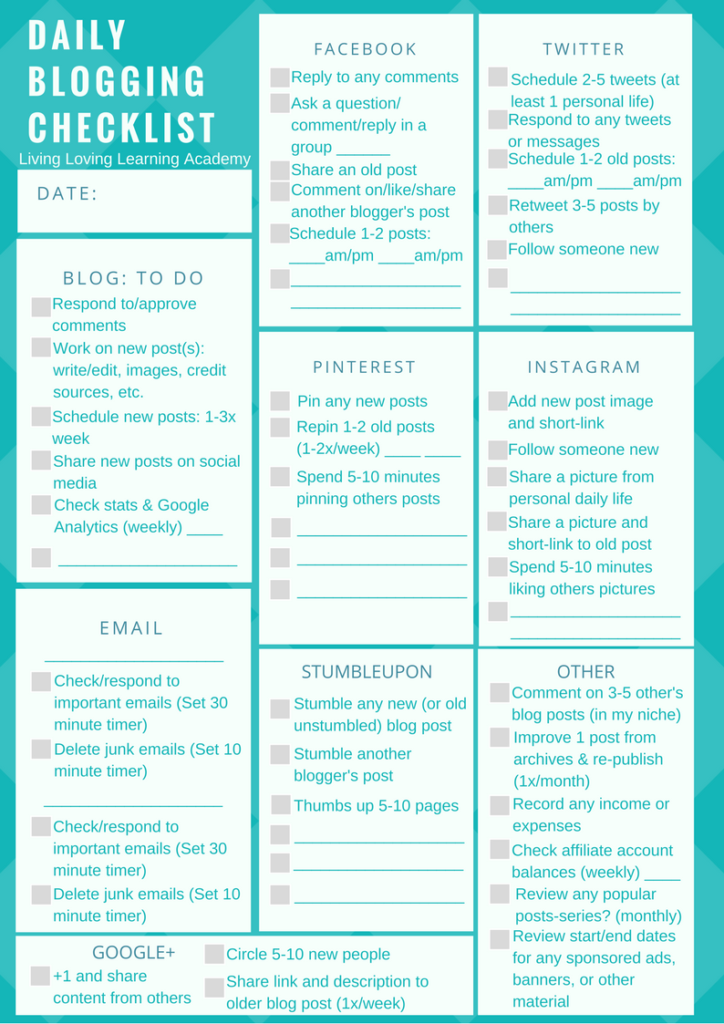 Schedules I can keep in my phone and see who has what, but it was blogging that I kept losing track of where I was or what I had already done. Since I can't avoid interruptions, I decided to create a checklist to make it easy to keep track of what I needed to do and could easily check off when done. When I need to stop working on something to make the kids lunch or switch that never-ending load of laundry, I don't have to worry about losing my thought process and spending a half hour trying to remember what I was doing or re-doing things.

To help keep track of all those to-do's, I'm a big fan of printable planners and cute binders to put them in. I have one binder specifically for household stuff, like calendars with what bills are due when, and then one for all blog-related stuff. And I'm happy to share my Daily Blog Checklist with you! Whether you are already blogging and looking for something to help keep you organized, or just getting into blogging, I hope you will find the checklist useful.
Get the printable checklist by clicking either image above to download or get it in your inbox below! (Shh, I'll let you in on a secret…you will get a bonus checklist for being a new email subscriber!)

I love colorful binders to help keep me organized. If you need one, here are a few suggestions:
(Disclaimer- This post may contain affiliate links. For more information, please see Disclosure Policy.)
If you come across any broken links or resources no longer available, be sure to comment below and I will get them fixed as soon as I can. Thanks!
Save
Save
Save
Save
Save
Save
Save
Save
Save
Save
Save
Save
Save
Save
Save
Save
Save
Save
Save
Save
Save
Save
Save
Please follow and like us: