8th Grade! Where did the time go? I can't believe this is the last year before my little girl is officially a "high-schooler"! That means this year is a big transition year. We are homeschooling on a very tight budget, so most of these resources are free, but that in no way diminishes the quality. (It may require more prep time though!)
(Disclaimer- This post may contain affiliate links. For more information, please see Disclosure Policy.)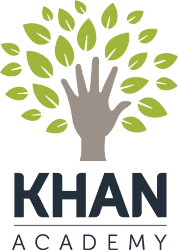 Math– Khan Academy Pre-Algebra: As with last year, I love KA and so does Miss S! Topics are covered well enough in the videos for her to understand and figure out how to work the problems on her own. She has completed nearly everything under early math and most of arithmetic, so this year's focus will be pre-algebra. Using the parent page I can easily see what she is working on, what she is struggling with, and what she has mastered. While there are no grades for tests or quizzes, I know she isn't moving forward unless she shows comprehension and mastery. We will also use IXL and Xtramath occasionally for review of basics.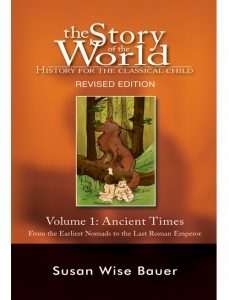 History/Social Studies– Story of the World: We completed Volume 1 last year and started Volume 2, however we are only a few chapters in. This year will be completing Vol. 2 and starting Vol.3. I found and started using SOTW late with Miss S, so we don't do every chapter, just because there isn't nearly enough time. While SOTW is primarily aimed at elementary and lower middle grades, in addition to the activity guide and test book, I find other resources to supplement. (You can find the resources and plan I use on the SOTW Curriculum page.) She enjoys SOTW, so that makes it a great starting point.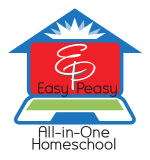 Science– All-in-One Homeschool Earth Science Level M: We used Biology Level M last year and it worked well. She knows what to do each day without having to ask for direction, which is great for independent learning. Miss S loves science though, so getting her to do those assignments never requires effort. As of this year, she plans to be a Forensic Anthropologist.
English/Language Arts– All-in-One Homeschool English 8. She still has a little bit to complete from English 7, then will be moving on to English 8.
Foreign Language– German. Using a combination of Memrise and Duolingo, she will continue studying German for a third year.

Typing/Computer Skills–Typing Web and Khan Academy Computer Programming
Art/Music– All-in-One Homeschool: Again this year, we are using the Art and Music Ancient weeks that line up with the chapters being worked on with SOTW. It's always a help when one subject ties well with another.
Financial Literacy– Custom Curriculum continued from last year. So many kids and teens today have no real concept of money, banking, credit, etc. This course addresses all that, starting with the basis of money and builds all the way to entrepreneurship and starting a business. By the end of this course, my daughter will actually start her own business. I plan to add it soon.
Life Skills: There are those learning adventures and necessary skills that don't fit into a particular subject, but are still important to keep track of. Girl Scouts, Church Youth Group, chores, new cooking skills, volunteer work, and so much more.
PE : Miss S is a gymnast and any given week she is at gym training at least 2 days a week at 2+ hours each day, plus daily stretching and conditioning. This year she is also on a competitive team, so when a meet is coming up, the number of practices is likely to increase. In addition to physical exercise, she is also receiving coaching, nutrition advice, learning about teamwork and sportsmanship.
Well, that's it for 8th grade. Hope some of these suggestions are helpful to those looking to home educate on a tight budget.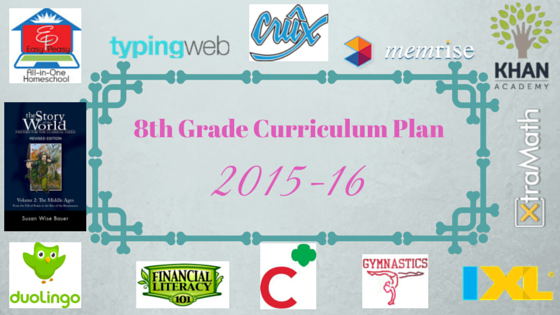 To see what other families' homeschool curriculum choices are this year, or to add your own, visit the iHomeschool Network Not Back-to-School Link-up!
Follow Living Loving Learning Academy's board Homeschool- Miscellaneous on Pinterest.
(Disclaimer: This post may contain affiliate links. For more information, please see Disclosure Policy.)
If you come across any broken links or resources no longer available, be sure to comment below and I will get them fixed as soon as I can. Thanks!
Save
Save
Save
Save
Please follow and like us: